Let Shoot Systems look after your tech, so you can look after your customers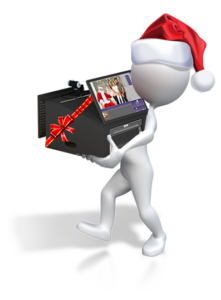 When it comes to experience, Shoot Systems have it in abundance. With over 15 years delivering Santa's Grotto Photography, we know every single 'trick in the trade'. Our systems have been tried and tested in some of the largest Grottos in the UK, taking over 40,000 photos at a singular site over a 2 month season. Don't stress, just let Shoot System treat you this Christmas.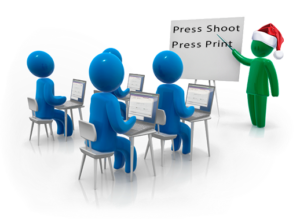 Santa's Grotto Photography isn't always easy, which is why we developed our unique in-house software that is built specifically for Grotto Photography, giving you full reliability. With easy-to-use functionality, very little training is required to use our systems.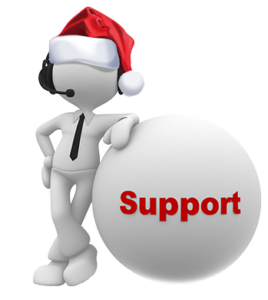 Our designated in-house technical support team will be at the end of a phone every minute that you are live, with the ability to login remotely if needed. No matter how trivial the issue, we're always happy to help.
---------------------
BRONZE PACKAGE
---------------------
This is an entry level system, designed to give
smaller Grotto's an affordable solution.
Follow the link below for full details of this package
----------------------------------
SILVER PACKAGE
----------------------------------
This system has advanced customisable features.
Using QR cards, customers can instantly download and
share any purchased prints.
---------------------------------
GOLD PACKAGE
---------------------------------
This system holds the same spec as Silver; however,
the Gold package is for sites with multiple Photo and Sales stations.
Using QR cards, prints can be purchased at any Sales station,
downloaded and shared.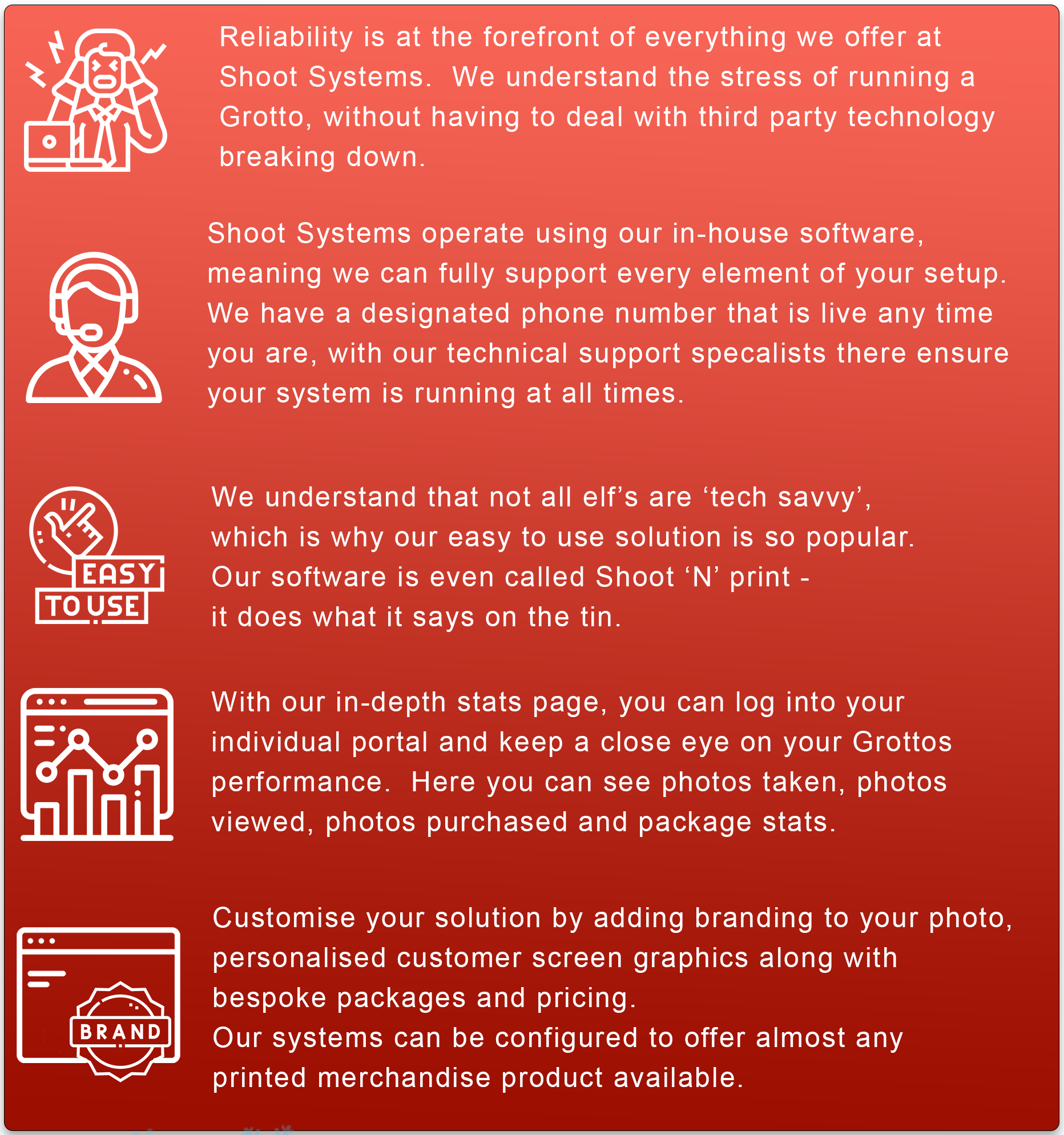 Some kind words from our happy customers
"The level of support from Shoot Systems is fantastic.
We run some of the largest Grotto experiences in the
UK, and the service Shoot Systems provide is seamless.
We are thoroughly impressed. Good job guys!".
-- Kate Stratham --
"Using Shoot Systems for the first time in 2022,
we were pleasantly surprised at how easy their system was to install and use.
Dan and the team helped us every step of the way,
providing a great level of support.
Will definitely be using them again next year".
-- Kieran Meakins --
"Shoot Systems have supplied our Grotto Photography
for nearly 10 years over multiple sites.
We keep coming back because their systems are just so easy to use!
Having someone at the end of the phone at all
times for technical support ...great service!"
-- Rebecca Gurnett --
"Thanks to Shoot Systems, we had the most
successful Christmas to date! Their system was flawless,
meaning we can concentrate on running the Grotto and
selling photos rather than worrying about failing technology."
-- Kim Foster --